$34.99
AUD
Category: Feminism and Gender
An inspirational and practical book written by two high-achieving women, sharing the experience and advice of some of our most extraordinary women leaders, in their own words. From their broad experience on the world stage in politics, economics and global not-for-profits, Ngozi Okonjo-Iweala and Julia Gillard have some strong ideas about the impact of gender on the treatment of leaders. Women and Leadership takes a consistent and comprehensive approach to teasing out what is different for women leaders. Almost every year new findings are published about the way people see women leaders compared with their male counterparts. The authors have taken that academic work and tested it in the real world. The same set of interview questions were put to each leader in frank face-to-face interviews. Their responses were then used to examine each woman's journey in leadership and whether their lived experiences were in line with or different from what the research would predict. Women and Leadership presents a lively and readable analysis of the influence of gender on women's access to positions of leadership, the perceptions of them as leaders, the trajectory of their leadership and the circumstances in which it comes to an end. By presenting the lessons that can be learned from women leaders, Julia and Ngozi provide a road map of essential knowledge to inspire us all, and an action agenda for change that allows women to take control and combat gender bias. Featuring Jacinda Ardern, Hillary Clinton, Ellen Johnson Sirleaf, Theresa May, Michelle Bachelet, Joyce Banda, Erna Solberg, Christine Lagarde and more. ...Show more
$22.99
AUD
Category: Feminism and Gender
Clementine Ford reports that one of the questions she is most asked in person and online is 'how do I raise my son to be a feminist? How do I make sure he's a supporter rather than a perpetrator?' That is a question that many parents with sons are haunted by. Now that Clem is mother to a baby boy of he r own, it is a question that haunts her, too. How does a feminist raise a son in a world that conditions boys into entitlement, privilege and power at the expense not just of girls' humanity but also their own? All boys start innocent, but by the time they are adolescents many of them will subscribe to a view of masculinity that is openly contemptuous of women and girls. This explosive new work will look at toxic masculinity and the closed ranks of brotherhood that shape an entitled, disrespectful and potentially dangerous idea of manhood. In Boys Will Be Boys, bestselling and groundbreaking author of Fight Like a Girl Clementine Ford dismantles the age-old idea that entitlement, aggression and toxicity are natural realms for boys and reveals how the patriarchy we live in is as harmful to boys and men as it is to women and girls. ...Show more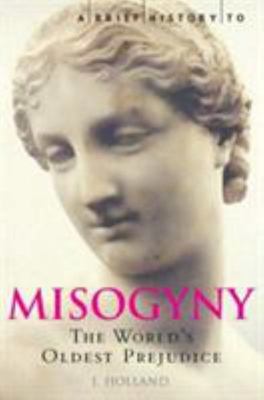 $15.00
AUD
Category: Feminism and Gender | Series: Brief Histories Ser.
In this compelling, powerful book, highly respected writer and commentator Jack Holland sets out to answer a daunting question: how do you explain the oppression and brutalization of half the world's population by the other half, throughout history?   The result takes the reader on an eye-opening jour ney through centuries, continents and civilizations as it looks at both historical and contemporary attitudes to women. Encompassing the Church, witch hunts, sexual theory, Nazism and pro-life campaigners, we arrive at today's developing world, where women are increasingly and disproportionately at risk because of radicalized religious belief, famine, war and disease. Well-informed and researched, highly readable and thought-provoking, this is no outmoded feminist polemic: it's a refreshingly straightforward investigation into an ancient, pervasive and enduring injustice. It deals with the fundamentals of human existence -- sex, love, violence -- that have shaped the lives of humans throughout history.   The answer? It's time to recognize that the treatment of women amounts to nothing less than an abuse of human rights on an unthinkable scale. A Brief History of Misogyny is an important and timely book that will make a long-lasting contribution to the efforts to improve those rights throughout the world. ...Show more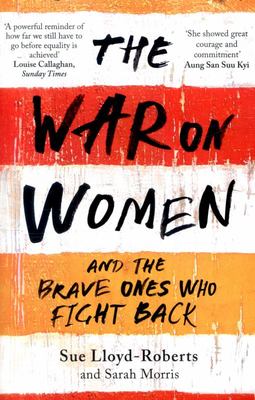 $15.00
AUD
Category: Feminism and Gender
'She showed great courage and commitment in reporting from Burma and exemplified my belief that the best journalists are also the nicest' - Aung San Suu Kyi 'One of the most distinguished television journalists of her generation' - Huw Edwards 'Brilliant and indefatigable' - Jeremy Bowen 'She had someth ing you call moral courage and it rubbed off on others' - David Aaronovitch 'She set the standard for bravery in many of the world's nastiest places' - John Fisher Burns, New York Times 'She went to dangerous places to give a voice to people who otherwise would not be heard' - Tony Hall, BBC Director General In 1973, Sue Lloyd-Roberts joined ITN as a news trainee and went on to be one of the UK's first video-journalists to report from the bleak outposts of the Soviet Union. Travelling as a tourist, she also gained access to some of the world's most impenetrable places like China, Tibet and Burma. During her 40-year-long career she witnessed the worst atrocities inflicted on women across the world. But in observing first-hand the war on the female race she also documented their incredible determination to fight back. The War on Women brings to life the inconceivable and dangerous life Sue led. It tells the story of orphan Mary Merritt who, age sixteen, instead of being released from the care of nuns was interned by them in a Magdalen Laundry and forced to work twelve hours a day six days a week, without pay, for over a decade. She gives voice to Maimouna, the woman responsible for taking over her mother's role as the village female circumciser in The Gambia and provides a platform for the 11-year-old Manemma, who was married off in Jaipur at the age of six. From the gender pay gap in Britain to forced marriage in Kashmir and from rape as a weapon of war to honour killings, Sue has examined humankind's history and takes us on a journey to analyse the state of women's lives today. Most importantly she acts as a mouthpiece for the brave ones; the ones who challenge wrongdoing; the ones who show courage no matter how afraid they are; the ones who are combatting violence across the globe; the ones who are fighting back. Sue sadly died in 2015, shortly after writing this book, today she is widely recognised as one of the most acclaimed television journalists of her generation. This book is the small tribute to the full and incredible life she lived and through it these women's voices are still being heard. ...Show more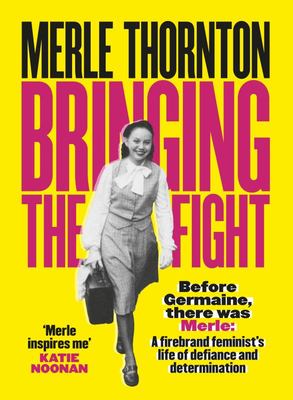 $29.99
AUD
Category: Feminism and Gender
   An engaging, lively, provocative and, above all, inspiring memoir from one of our home-grown, unsung feminist heroes, Merle Thornton, who has lived a life full of daring, defiance and activism.  Merle Thornton is one of Australia's most delightful, formidable and game-changing pioneering feminists - a woman who through her daring and defiance helped bring about positive change for generations of Australian women. In her most audacious act, in 1965 she chained herself to the bar at the Regatta Hotel in Brisbane to protest against the law that excluded women from public bars in Queensland, bringing about the end of segregated drinking in that state. The bar in the hotel is now called 'Merle's Bar.' But that's just one achievement, in a life full and rich in defiance, daring and determination. Warm, funny, rollicking - this is a memoir that is powerfully relevant to all women now.  ...Show more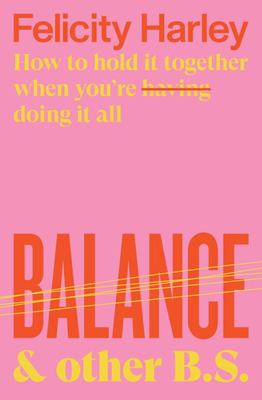 $29.99
AUD
Category: Feminism and Gender
When having it all becomes doing it all: a guide to mastering the mental load. Feeling overwhelmed is just part of the deal, right? *breathes into a paper bag*.' - Turia Pitt'The woman still shoulders the lion's share of all the other unpaid work required. She pays a high price for this . . .' - Jane C aroThere's never been a better time to be a woman - we can have it all! That's what feminism promised, didn't it?When Felicity Harley, founding editor of Women's Health magazine and whimn, felt really off kilter, she started talking to other women about their overwhelm. The floodgates opened. Turns out her girlfriends, colleagues and other mums at the school gate were also drowning in feminist guilt while trying to keep everything afloat; plagued by perfectionism, riddled with doubt, ruled by screens and hurtling towards burnout.As we juggle the roles of partner, boss, friend, mother and employee (plus a side hustle), balance has never been more crucial. We're obsessed with 'wellness', yet women's mental health and wellbeing are in decline.Using her own experiences, research and insights from leading Australian experts in health, sociology and feminism, and wisdom from smart women like Tanya Plibersek and Fifi Box, Felicity calls out the crap in 'cult wellness'. In her warm and inspiring way, she shows how you can cut through the B.S. to find clarity in the chaos, shed some of your mental load, and feel truly empowered in the middle of your wonderfully messy life. ...Show more
$14.99
AUD
Category: Feminism and Gender
An updated edition of the Sunday Times Bestseller. Britain's best-known classicist Mary Beard, is also a committed and vocal feminist. With wry wit, she revisits the gender agenda and shows how history has treated powerful women. Her examples range from the classical world to the modern day, from Medus a and Athena to Theresa May and Hillary Clinton. Beard explores the cultural underpinnings of misogyny, considering the public voice of women, our cultural assumptions about women's relationship with power, and how powerful women resist being packaged into a male template. A year on since the advent of #metoo, Beard looks at how the discussions have moved on during this time, and how that intersects with issues of rape and consent, and the stories men tell themselves to support their actions. In trademark Beardian style, using examples ancient and modern, Beard argues, 'it's time for change - and now!' From the author of international bestseller SPQR: A History of Ancient Rome. ...Show more
$22.99
AUD
Category: Feminism and Gender
When New Zealand's prime minister, Jacinda Ardern, announced her pregnancy, the headlines raced around the world. But when Scott Morrison and Josh Frydenberg became the first prime minister and treasurer duo since the 1970s to take on their roles while bringing up young children, this detail passed larg ely without notice. Why do we still accept that fathers will be absent? Why do so few men take parental leave in this country? Why is flexible and part-time work still largely a female preserve? In the past half-century, women have revolutionised the way they work and live. But men's lives have changed remarkably little. Why? Is it because men don't want to change? Or is it because, every day in various ways, they are told they shouldn't? In Men at Work, Annabel Crabb deploys political observation, workplace research and her characteristic humour and intelligence to argue that gender equity cannot be achieved until men are as free to leave the workplace (when their lives demand it) as women are to enter it. ...Show more
$22.99
AUD
Category: Feminism and Gender
Personal and fearless - a call to arms for feminists new, old and as yet unrealised by one of our most outspoken feminist writers.
$19.99
AUD
Category: Feminism and Gender
Imagine a world where…  · Your phone is too big for your hand Your doctor prescribes a drug that is wrong for your body In a car accident you are 47% more likely to be injured.  If any of that sounds familiar, chances are you're a woman.  From government policy and medical research, to techn ology, workplaces, and the media. Invisible Women reveals how in a world built for and by men we are systematically ignoring half of the population, often with disastrous consequences. Caroline Criado Perez brings together for the first time an impressive range of case studies, stories and new research from across the world that illustrate the hidden ways in which women are forgotten, and the profound impact this has on us all.  Our world is largely built for and by men, in a system that can ignore half the population. This book will tell you how and why this mattersIn her new book, Invisible Women, award-winning campaigner and writer Caroline Criado Perez shows us how, in a world largely built for and by men, we are systematically ignoring half the population. She exposes the gender data gap - a gap in our knowledge that is at the root of perpetual, systemic discrimination against women, and that has created a pervasive but invisible bias with a profound effect on women's lives. Caroline brings together for the first time an impressive range of case studies, stories and new research from across the world that illustrate the hidden ways in which women are excluded from the very building blocks of the world we live in, and the impact this has on their health and wellbeing. From government policy and medical research, to technology, workplaces, urban planning and the media - Invisible Women exposes the biased data that excludes women. In making the case for change, this powerful and provocative book will make you see the world anew. ...Show more
$34.99
AUD
Category: Feminism and Gender
'A wake-up call … These women's stories will make you weep, and then rage at the world's indifference.' Amal Clooney From award-winning war reporter and co-author of I Am Malala, this is the first major account to address the scale of rape and sexual violence in modern conflict. Christina Lamb has worked in war and combat zones for over thirty years. In Our Bodies, Their Battlefield she gives voice to the women of conflicts, exposing how in today's warfare, rape is used by armies, terrorists and militias as a weapon to humiliate, oppress and carry out ethnic cleansing. Speaking to survivors first-hand, Lamb encounters the suffering and bravery of women in war and meets those fighting for justice. From Southeast Asia where 'comfort women' were enslaved by the Japanese during World War Two to the Rwandan genocide, when an estimated quarter of a million women were raped, to the Yazidi women and children of today who witnessed the mass murder of their families before being enslaved by ISIS. Along the way Lamb uncovers incredible stories of heroism and resistance, including the Bosnian women who have hunted down more than a hundred war criminals, the Aleppo beekeeper rescuing Yazidis and the Congolese doctor who has risked his life to treat more rape victims than anyone else on earth. Rape may be as old as war but it is a preventable crime. Bearing witness does not guarantee it won't happen again, but it can take away any excuse that the world simply didn't know. ...Show more
$22.99
AUD
Category: Feminism and Gender
THE BRILLIANT AND HUGELY INFLUENTIAL BOOK BY THE WINNER OF THE 2017 ROYAL SOCIETY INSIGHT INVESTMENT SCIENCE BOOKS PRIZE 'Fun, droll yet deeply serious.'New Scientist 'A brilliant feminist critic of theneurosciences ... Read her, enjoy and learn.'Hilary Rose, THES 'A witty and meticulously researchedex posé of the sloppy studies that pass for scientificevidence in so many of today's bestselling bookson sex differences.'Carol Tavris, TLS Gender inequalities are increasingly defended by citing hard-wired differences between the male andfemale brain. That's why, we're told, there are so fewwomen in science, so few men in the laundry room -different brains are just suited to different things. With sparkling wit and humour, Cordelia Fine attacksthis 'neurosexism', revealing the mind's remarkableplasticity, the substantial influence of culture on identity,and the malleability of what we consider to be'hardwired' difference. This modern classic showsthe surprising extent to which boys and girls, men andwomen are made - not born. ...Show more