$19.99
AUD
Category: Maths - Popular
A bumper book of maths fun stuffed with things to draw, puzzle, invent, order, unscramble, code, decode for kids aged 7+ years from Australia's best known maths man. There's magic in maths - if you know where to look...
$29.99
AUD
Category: Maths - Popular | Reading Level: 4 Science
Why is a rainbow curved? Why aren't left-handers extinct? How is a sunflower like a synchronised swimmer? Why is 'e' a magic number?The answer to these questions is contained within one simple word: MATHS. Because maths is all about patterns, and our universe is extraordinarily patterned.With enthusiasm , humour and heart, Eddie Woo shows how card tricks, conspiracy theories, teacups, killer butterflies, music, lightning and so much more illuminate the spellbinding world of maths that surrounds us.'I never thought I'd read a maths book cover to cover, let alone sing its praises. Eddie Woo makes maths fun, accessible and relevant. Now we can all benefit from his extraordinary skill as a teacher.'JENNY BROCKIE, journalist and TV host'Not just a great teacher, Woo's Wonderful World of Maths shows Eddie to be a storyteller too. Is there anything the Woo cannot do?'ADAM SPENCER, Ambassador for Mathematics, University of Sydney ...Show more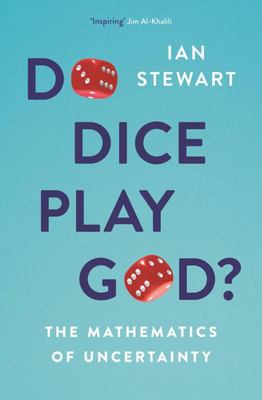 $22.99
AUD
Category: Maths - Popular
Professor Ian Stewart explores the development and limits of the mathematics that tame uncertainty.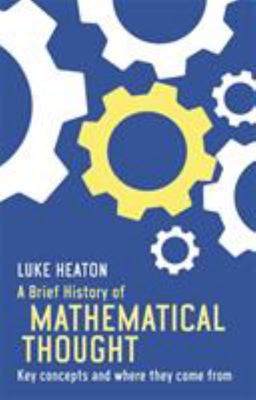 $15.00
AUD
Category: Maths - Popular | Series: Brief Histories Ser.
Mathematics is a product of human culture which has developed along with our attempts to comprehend the world around us. In A Brief History of Mathematical Thought, Luke Heaton explores how the language of mathematics has evolved over time, enabling new technologies and shaping the way people think. Fro m stone-age rituals to algebra, calculus, and the concept of computation, Heaton shows the enormous influence of mathematics on science, philosophy and the broader human story. The book traces the fascinating history of mathematical practice, focusing on the impact of key conceptual innovations. Its structure of thirteen chapters split between four sections is dictated by a combination of historical and thematic considerations. In the first section, Heaton illuminates the fundamental concept of number. He begins with a speculative and rhetorical account of prehistoric rituals, before describing the practice of mathematics in Ancient Egypt, Babylon and Greece. He then examines the relationship between counting and the continuum of measurement, and explains how the rise of algebra has dramatically transformed our world. In the second section, he explores the origins of calculus and the conceptual shift that accompanied the birth of non-Euclidean geometries. In the third section, he examines the concept of the infinite and the fundamentals of formal logic. Finally, in section four, he considers the limits of formal proof, and the critical role of mathematics in our ongoing attempts to comprehend the world around us. The story of mathematics is fascinating in its own right, but Heaton does more than simply outline a history of mathematical ideas. More importantly, he shows clearly how the history and philosophy of maths provides an invaluable perspective on human nature. ...Show more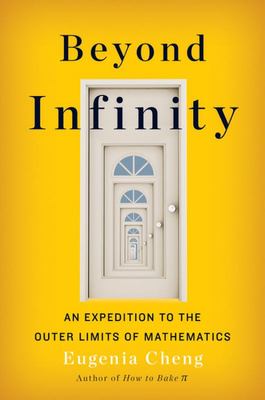 $20.00
AUD
Category: Maths - Popular
"[Cheng] does a great service by showing us non-mathematician schlubs how real mathematical creativity works." --Wall Street Journal   How big is the universe? How many numbers are there? And is infinity + 1 is the same as 1 + infinity? Such questions occur to young children and our greatest minds. And they are all the same question: What is infinity? In Beyond Infinity, Eugenia Cheng takes us on a staggering journey from elemental math to its loftiest abstractions. Along the way, she considers how to use a chessboard to plan a worldwide dinner party, how to make a chicken-sandwich sandwich, and how to create infinite cookies from a finite ball of dough. Beyond Infinity shows how one little symbol holds the biggest idea of all. ...Show more
$34.99
AUD
Category: Maths - Popular | Reading Level: very good
What's a 'firkin'? Is a tardigrade animal, vegetable or mineral? How fast is Usain Bolt ... really? And what's the record for the most lobster rolls eaten in 10 minutes? All these questions and more are answered in Adam Spencer's World of Numbers. This is a book for young and old - for anyone who's ever wondered how things work, who loves puzzles and numbers, or is just plain curious about the amazing world around us. After his bestselling Big Book of Numbers, Australia's funniest and most famous mathematician is back by popular demand. ...Show more
$15.00
AUD
Category: Maths - Popular | Series: Brief Histories Ser.
Here are the stories of the ten most popular equations of all time as voted for by readers of "Physics World", including - accessibly described here for the first time - the favourite equation of all, Euler's equation. Each is an equation that captures with beautiful simplicity what can only be describe d clumsily in words. Euler's equation [eip + 1 = 0] was described by respondents as 'the most profound mathematic statement ever written', 'uncanny and sublime', 'filled with cosmic beauty' and 'mind-blowing'. Collectively these equations also amount to the world's most concise and reliable body of knowledge. Many scientists and those with a mathematical bent have a soft spot for equations. This book explains both why these ten equations are so beautiful and significant, and the human stories behind them. ...Show more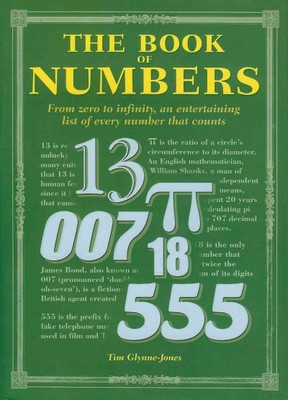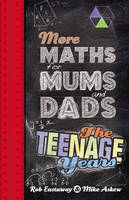 $15.00
AUD
Category: Maths - Popular
In their first, bestselling, book "Maths for Mums and Dads" Rob Eastaway and Mike Askew helped you and your child make sense of the new methods and topics covered in primary school maths. But as your child embarks on secondary school, two new issues arise. First, in the build-up to GCSE, school children begin to do maths that you probably have never encountered before - or if you have, you never really got it in the first place, and have long since forgotten. Factorising? Finding the locus? Solving for x? Probability distributions? What do these even mean? And there's another problem, too. As your child becomes a teenager, two dreaded questions increasingly loom: when will I ever need this? And even worse: who cares? "More Maths for Mums and Dads" gives you all the ammunition to help you to help your teenager get to grips with and feel more confident about - and hopefully even enjoy - GCSE maths. It covers in straightforward and easy-to-follow terms the maths your child will encounter in the build up to GCSE, in many cases gives practical and fun examples of where the maths crops up in the real world. ...Show more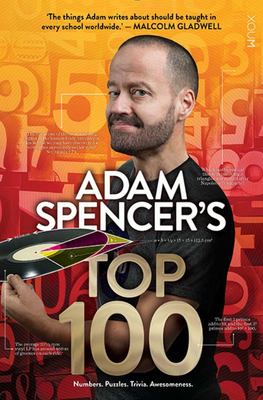 $26.99
AUD
Category: Maths - Popular
Australia's funniest mathematician is back in 2019 with a small format edition of 2018's bestseller. Which number terrifies Ogdokontaheptaphobes? Why would you watch the same clock for 14 years? And have you met the 23-million-digit prime? The answers to all of these questions - and much, much more - ar e in Adam Spencer's Top 100. Bursting at the seams with puzzles, quizzes, games, numerical trivia and fun, this is the ultimate book for maths nerds and anyone with an inquiring mind. Whether you're 8 or 80, strap your thinking cap on, grab a pencil and get ready to count down from 100 to 1 with Australia's favourite - and funniest - mathematician, Adam Spencer. Praise for Adam Spencer 'The things Adam Spencer writes about should be taught in every school worldwide.' Malcolm Gladwell, author of The Tipping Point, Blink and Outliers 'Even the page numbers will start to look fascinating once you've read this book!' Amanda Keller 'Every bright young mind in Australia should read Adam Spencer's Big Book of Numbers - and we oldies would benefit, too.' Peter FitzSimons ...Show more
Items per page:
1 - 10 of 10