$32.99
AUD
Category: Travel
Walking and Cycling Canberras Centenary Trail, a new book in Woodslanes hugely successful walking guides series, introduces the best day walks and cycles for visitors and residents alike, ranging from leisurely urban strolls to the more rugged tracks deep in the bush. Detailed descriptions and maps help the reader explore the parks, bushland, lakes, rivers and most interesting urban areas along the way. As with previous titles in the series, the book is richly illustrated with over 150 full-colour photographs and detailed maps for every route. A summary table of routes indicating distances, facilities and highlights is included to help the reader find exactly the right route for the occasion. The book covers the full circuit, so those wishing the tackle the whole thing in one adventurous trip, with overnight stops, will also find it invaluable. ...Show more
$29.99
AUD
Category: Travel | Series: City Ser.
An exploration of the city Australians love to hate, this book shows that there is more to the capital of Australia than politics, geometrically designed roads, and mid-century architecture. Canberra is a city of orphans: people arrive temporarily for work, but stay when they discover the unanticipated promise and opportunity Canberra has to offer. From the lake and its forgotten suburbs--traces of which can still be found on Burley Griffin's banks--to the mountains that surround the city, this account also examines the unsavory early life of Canberra and the graveyard at St. John's, where the pioneers rest.  ...Show more
$29.99
AUD
Category: Travel | Series: Woodslane Walking Guides
Sydney's Best Bush Park & City Walks includes over 50 walks throughout the Sydney basin. Each walk specifies the distance, the total ascent and descent, the grade and the estimated duration and is accompanied by an accurate full-colour map using latest GPS technology. Snippets about Sydney's history and the environment add colour and interest to the walking experience. Families will enjoy information regarding child-friendly walks, and how to explore the bush safely with children of all ages. Over 150 full-colour photos complement the text, and provide you with a clear sense of the features on each walk. This guide will help you discover many of Sydney's classic walks, as well as some wild and adventurous tracks that few know exist. ...Show more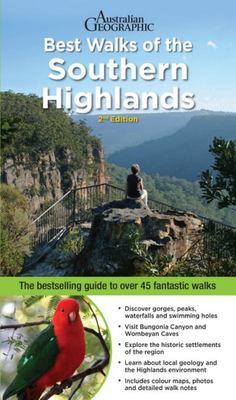 $32.99
AUD
Category: Travel | Series: Woodslane Walking Guides
For those in the urban centres of Sydney, Wollongong or Canberra, the Southern Highlands offer a fast escape with natural attractions that can't be found along the coast. The Highlands form part of the Great Dividing Range and numerous spectacular waterfalls tumble off its sharp eastern edge.
$29.99
AUD
Category: Travel | Series: Woodslane Walking Guides
The Shoalhaven boasts a huge range of beautiful environments, making the region perfect for exploring on foot. This second edition of the Best Walks of the Shoalhaven introduces the best walks for visitors and residents alike, ranging from leisurely beach-side strolls to the more rugged tracks deep in t he bush. Detailed descriptions and maps help the reader explore the regions parks, bushland, rivers, coasts and most interesting urban areas. As with previous titles in the series, the book is richly illustrated with over 150 full- colour photographs and dozens of detailed maps. A summary table of walks indicating distances, facilities and highlights is included to help the reader find exactly the right walk for the occasion. Walking chapters: Around Nowra, Around Kangaroo Valley, Jervis Bay, Around Ulladulla and Further Afield. ...Show more
$29.99
AUD
Category: Travel | Series: Woodslane Walking Guides
Sydney is one of the most beautiful cities in the world and regardless of your fitness level or experience, it's best seen on foot! This 10th Anniversary 4th edition of the bestselling Sydney's Best Harbour and Coastal Walks explores the length and breadth of Sydney's spectacular harbour, beaches and co astal cliffs and headlands. With this, one of Sydney's most beloved books, you can enjoy breathtaking views, stroll along golden beaches and discover hidden bushland secrets. This beautifully written and well-organised walking guide includes 36 walks of varying grades, easy-to-follow directions, accurate full-colour maps and over 150 full-colour photos. Read about Sydney's history and environment, and combine day walks with nearby activities and attractions. ...Show more
$59.99
AUD
Category: Travel
An unsurpassable, visual tour of the greatest pilgrimage sites of Europe, from North to South; East to West Pilgrimage in Europe is currently thriving on a scale that simply could not have been envisaged just a few decades ago. Not only are greater numbers of people now emulating the medieval pilgrims who made their way on foot across Europe to the shrines of martyred apostles in Rome (Peter and Paul) and Santiago de Compostela (James), but millions each year are also travelling by air, rail, road and foot to the world famous sites of Marian Apparition such as Lourdes (France), Fatima (Portugal), Knock (Ireland). These three sites alone receive almost 12 million pilgrims a year between them. This book covers all the key pilgrimage sites across Europe, as well the lesser known ones such as La Salette in the French Alps which, despite its remoteness still attracts almost 1.5 million visitors each year, many of whom are pilgrims on retreat. It will comprise a blend of the atmospheric pilgrimage churches adorned with sculpture, art and iconography associated not only with the Virgin Mary but also the national saints and Early Christian martyrs revered by both Catholic and Anglican faiths alike. En route the reader will see some of the world's most impressive examples of medieval art and architecture set amidst historic townscapes or spectacular landscapes. This volume will serve as both an enticement to take to the road, a treasured aide memoire for those who have visited at least some of these iconic places and a source of comfort for those who would never be able to travel abroad from wherever they live in the world. ...Show more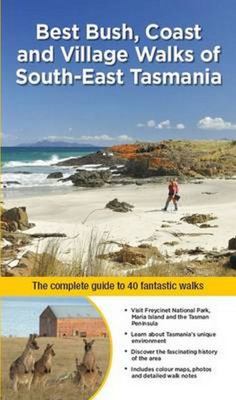 $29.99
AUD
Category: Travel | Series: Woodslane Walking Guides
Discover the pristine busland, unspoilt beaches and historic villages of South-East Tasmania on foot.
Chernobyl: a Stalkers' Guide
by Darmon Richter; Damon Murray (Editor); Stephen Sorrell (Editor)
$49.99
AUD
Category: Travel
Since the first atomic bomb was dropped, humankind has been haunted by the idea of nuclear apocalypse. That nightmare almost became reality in 1986, when an accident at the USSR's Chernobyl Nuclear Power Plant triggered the world's worst radiological crisis. The events of that night are well documented - but history didn't stop there. Chernobyl, as a place, remains very much alive today.In Chernobyl: A Stalkers' Guide, researcher Darmon Richter journeys into the contemporary Exclusion Zone, venturing deeper than any previously published account. While thousands of foreign visitors congregate around a handful of curated sites, beyond the tourist hotspots lies a wild and mysterious land the size of a small country. In the forests of Chernobyl, historic village settlements and Soviet-era utopianism have lain abandoned since the time of the disaster - overshadowed by vast, unearthly mega-structures designed to win the Cold War.Richter combines photographs of discoveries made during his numerous visits to the Zone with the voices of those who witnessed history - engineers, scientists, police and evacuees. He explores evacuated regions in both Ukraine and Belarus, finding forgotten ghost towns and Soviet monuments lost deep in irradiated forests. He gains exclusive access inside the most secure areas of the power plant itself, and joins the 'stalkers' of Chernobyl as he sets out on a high-stakes illegal hike to the heart of the Exclusion Zone. ...Show more
$19.99
AUD
Category: Travel | Series: Woodslane Walking Guides
Best Walks of the Great Ocean Road & the Otways, a new book in Woodslanes hugely successful walking guides series, introduces the best walks for visitors and residents alike, ranging from leisurely beach-side strolls to the more rugged tracks deep in the bush. Detailed descriptions and maps help the reader explore the regions parks, bushland, ...... ...Show more
$39.99
AUD
Category: Travel
From the ABC Back Roads team, Australia's inspiring rural communities in splendid, vivid colour During the five years it has been appearing on our screens, ABC TV's Back Roads has taken us across Australia, through scorched deserts, along sapphire coasts, up breathtaking mountains and over gentle, roll ing plains. It has shown us the rugged landscapes, the resilient communities and the extraordinary individuals who make a life in those areas outside the big cities. In this book, we capture in vivid colour some of our favourite people and places. Full of glorious photos that show us the spirit, purpose, difficulties and humour of outback life, this book is a tribute to the surprising characters, the rarely told stories and the sometimes beautiful, sometimes strange places that exist along the back roads of our extraordinary country. ...Show more