$17.99
AUD
Category: Children 9-12 | Series: Nevermoor
Morrigan Crow and her friends have survived their first year as proud scholars of the elite Wundrous Society, helped bring down the nefarious Ghastly Market, and proven themselves loyal to Unit 919. Now Morrigan faces a new, exciting challenge: to master the mysterious Wretched Arts of the Accomplished Wundersmith, and control the power that threatens to consume her. Meanwhile, a strange and frightening illness has taken hold of Nevermoor, turning infected Wunimals into mindless, vicious Unnimals on the hunt. As victims of the Hollowpox multiply, panic spreads. There are whispers - growing louder every day - that this catastrophe can only be the work of the Wundersmith, Ezra Squall. But inside the walls of Wunsoc, everyone knows there is a new Wundersmith - one who's much closer to home. With Nevermoor in a state of fear and the truth about Morrigan threatening to get out, the city she loves becomes the most perilous place in the world. Morrigan must try to find a cure for the Hollowpox, but it will put her - and everyone in Nevermoor - in more danger than she could have imagined. ...Show more
$16.99
AUD
Category: Picture Books
Everyone loves Bandit, especially Bluey and Bingo! Find out what makes this true blue dad so special in this hilarious and heartwarming book. Bluey has been a phenomenal success since airing on ABC KIDS in October 2018, amassing legions of dedicated fans and taking the coveted position of being the most watched program ever on ABC iView, with over 200 million plays.  ...Show more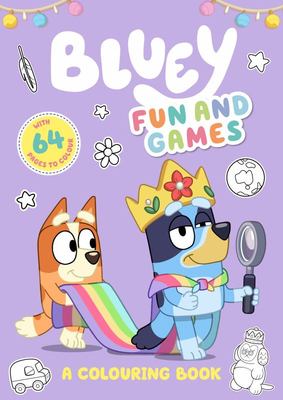 $5.99
AUD
Category: Activity Books
Colour in the grannies, a game of Featherwand, a trip to Rug Island and more in this fun-filled colouring book. Bluey has been a phenomenal success since airing on ABC KIDS in October 2018, amassing legions of dedicated fans and hugely popular ranges of books, toys, clothes, games and more. It holds the coveted position of being the most watched program ever on ABC iView, with over 260 million plays for Series One, and is the winner of an International Emmy for Most Outstanding Children's Programme. ...Show more
$16.99
AUD
Category: Board Books | Series: Bluey
Bluey loves to play Use the magnets to create games for Bluey, Bingo and their friends in the backyard, the forest and more. A fun-filled magnet book for kids of all ages. Blueyhas been a phenomenal success since airing on ABC KIDS in October 2018, amassing legions of dedicated fans and hugely popula r ranges of books, toys, clothes, games and more. It holds the coveted position of being the most watched program ever on ABC iView, with over 260 million plays for Series One, and is the winner of an International Emmy for Most Outstanding Children's Programme.   ...Show more
$14.99
AUD
Category: Board Books
Join Bluey and Bingo as they try to answer the question- can grannies dance? Bluey has been a phenomenal success since airing on ABC KIDS in October 2018, amassing legions of dedicated fans and taking the coveted position of being the most watched program ever on ABC iView, with over 200 million plays. It has also topped the Australian iTunes Kids Chart with the series peaking at #1 and consistently remaining in the Top 5. ...Show more
$2.00
AUD
Category: Children 5-8 | Series: The Treehouse Books
Andy always narrates the Treehouse stories. That's because Terry is the illustrator and 'illustrators can't narrate-everybody knows that!' Everyone except Terry, that is. He can tell a story too. Just watch what he can do. He begins with a dot. A dot that joins up with some lines. Some lines that join u p with some shapes. Some shapes that go ... KABLAM! And that's just the beginning of the Trouble in the Treehouse. ...Show more
$7.99
AUD
Category: Activity Books | Series: Disney Onward
Join two elf brothers, voiced by Tom Holland and Chris Pratt, on a quest to find out if there's still a little magic out there in the world. Grab a paintbrush and some water to bring their adventure to life! Easy to use colour palettes will give kids hours of mess-free fun as they colour their favourite Onward characters. ...Show more
$14.99
AUD
Category: Board Books
It's Bingo's turn to take Bob Bilby home. Will he have fun with Bluey and Bingo?  
$15.99
AUD
Category: Children 5-8 | Series: Weirdo
HAPPY BIRTHDAY TO MEEEEE! Not only is it PLANET DAY, its also Weir Dos BIRTHDAY! And his partys going to be so HUGE youll see it from space! It wont be easy... but it will be FUNNY!
$16.99
AUD
Category: Board Books
Join the hunt to find lovable puppy, Spot, in Eric Hill's first ever lift-the-flap tale! Lift each flap to find all sorts of funny animal surprises, before discovering where cheeky Spot has been hiding. This is the perfect first book for little ones - the playful text is a wonderful spur to read and re spond together, and the hide-and-seek flaps encourage curiosity and interactivity. This is a special anniversary edition of this much-loved classic, with a ruby cover to celebrate 40 years since the first publication of Where's Spot?.   ...Show more
$24.99
AUD
Category: Board Books | Series: Read and Play
Introducing a new and interactive series: Read and Play! You must never touch a dinosaur... except in this set! Children will love reading the funny rhyme that warns of the dangers of touching a dinosaur-and then ignoring the advice! There is also six roar-some dinosaur toy models!
$5.99
AUD
Category: Activity Books
Colour Bluey's backyard, the creek, the playground and more in this fun-filled colouring book.Bluey has been a phenomenal success since airing on ABC KIDS in October 2018, amassing legions of dedicated fans and taking the coveted position of being the most watched program ever on ABC iView, with over 20 0 million plays. It has also topped the Australian iTunes Kids Chart with the series peaking at #1 and consistently remaining in the Top 5. ...Show more