$16.99
AUD
Category: Picture Books
Bluey wants to play Mum School instead of having her bath. But will the kids listen to her? A gorgeous hardback book for kids of all ages. Bluey has been a phenomenal success since airing on ABC KIDS in October 2018, amassing legions of dedicated fans and hugely popular ranges of books, toys, clothes, g ames and more. It holds the coveted position of being the most watched program ever on ABC iView, with over 260 million plays for Series One, and is the winner of an International Emmy for Most Outstanding Children's Programme.   ...Show more
$16.99
AUD
Category: Picture Books
Bluey and Bingo love their mum and she loves them! Discover all of Chilli's special mum skills in this touching and humorous book. The perfect Mother's Day gift for Bluey fans young and old. Bluey has been a phenomenal success since airing on ABC KIDS in October 2018, amassing legions of dedicated fans and hugely popular ranges of books, toys, clothes, games and more. It holds the coveted position of being the most watched program ever on ABC iView, with over 260 million plays for Series One, and is the winner of an International Emmy for Most Outstanding Children's Programme.   ...Show more
Wombat
by Christopher Cheng; Liz Duthie (Illustrator)
$26.99
AUD
Category: Picture Books | Series: Nature Storybooks Ser.
Burrowing and basking, digging and defending; Wombat is a new Nature Storybook exploring the world of one of Australia's most beloved creatures. Far underground, where dirt and tree roots mesh, are tunnels that lead to a burrow, and in this burrow Wombat's day begins. A story about the life of a womb at, looking at the interesting way these animals build their homes, look after their family and protect themselves from predators. Wombat is a new addition to the Nature Storybooks series, which feature a lyrical narrative and engaging nonfiction combined with stunning artwork to pique the curiosity of young minds.   ...Show more
$24.99
AUD
Category: Picture Books
A rambunctious romp of a family road trip around Australia looking for the right place to celebrate Aunty's birthday with a cake. An everyday Aussie family leaves their Melbourne home, makes for the Great Ocean Road and finds themselves on the journey of a lifetime to every state and territory of Austr alia. They visit many iconic places along the way and although it wasn't their original intention, they experience the whole gamut of landscapes, climates and wonders that Australia has to offer: from The Twelve (now seven) Apostles, to Coober Pedy, Ningaloo Reef, Uluru, the Great Barrier Reef, the Harbour Bridge, the Australian War Memorial in Canberra, Port Arthur and finally, back home to Melbourne.   ...Show more
$16.99
AUD
Category: Picture Books | Series: Disney Cinderella Ser.
When Cinderellas wicked stepmother stops her from going to the Royal Ball, she gets some unexpected help from her animal friends and her Fairy Godmother. Then, bibbidi-bobbidi-boo, Cinderella heads to the ball and meets the prince. But will the fairytale be over when the clock strikes midnight? This bea utifully illustrated 72-page book is perfect for any Disney fan and a perfect gift to celebrate Cinderellas 70th anniversary. Featuring gold foiling on the cover, gilded pages and a stunning gold ribbon to mark your place, this hardcover book is something to treasure for a lifetime! ...Show more
Don't Forget
by Jane Godwin; Anna Walker (Illustrator)
$19.99
AUD
Category: Picture Books
Don't forget to make your bed, and wear socks that fit your feet... Don't forget to care, to play, To run, to laugh... Sometimes, we need to remember all the things we can do to be part of the world. Small things, like offering a smile. And bigger things, like hoping, dreaming, imagining...  
$16.99
AUD
Category: Picture Books | Reading Level: Children's - Kindergarten, Age 5-6
A New York Times Best Illustrated Children's Book of 2011! A picture-book delight by a rising talent tells a cumulative tale with a mischievous twist. Features an audio read-along! The bear's hat is gone, and he wants it back. Patiently and politely, he asks the animals he comes across, one by one, wh ether they have seen it. Each animal says no, some more elaborately than others. But just as the bear begins to despond, a deer comes by and asks a simple question that sparks the bear's memory and renews his search with a vengeance. Told completely in dialogue, this delicious take on the classic repetitive tale plays out in sly illustrations laced with visual humor-- and winks at the reader with a wry irreverence that will have kids of all ages thrilled to be in on the joke. ...Show more
Maybe...
by Chris Haughton
$27.99
AUD
Category: Picture Books
From Chris Haughton comes a funny, suspenseful and keenly observed cautionary tale about pushing boundaries and indulging your more mischievous, cheeky side (when nobody is looking). Three little monkeys, and their big monkey, are sat high up on their branch in the forest canopy. "Ok, monkeys! I'm off, " says the big monkey. "Now remember. Whatever you do, do NOT go down to the mango tree. There are tigers down there." Mmm … mangos! think the little monkeys. They LOVE mangos. Hmm ... maybe … maybe they could just look at the mangos? That'd be ok, right? ...Show more
$24.99
AUD
Category: Picture Books
There are two sides to every story... A whale has become stranded on the beach, but the tiny puffins are far, far too small to help. When Move That Mountain is read in reverse, the puffins realise they are not too little to helptogether they can fix the problem. A heart-warming and inspirational story a bout how even the smallest voice can make a big difference. ...Show more
$29.99
AUD
Category: Picture Books
What happens when the truth gets lost? Where wild animals and people meet, tragedy can strike, But when a tiny baby is stolen by a dingo, people simply cannot accept such a thing. Prejudice and gossip grip the nation, and the tragedy transforms into a fight for the truth. How did it all go so wrong? Thi s is a true Australian story of innocence, ignorance, and the perils of 'mob thinking'.A beautifully illustrated non-fiction picture book that sensitively explores the collision of wilderness and civilisation, explains a famous miscarriage of justice, and examines the role of the media in history-telling, in an appropriate manner for young readers."An important story for children about one of Australia's most dramatic miscarriages of justice." --The Hon. Justice Lex Lasry, AM"A modern day fairy tale, cautionary and unforgettable. Essential reading for students of history and the law, young and old."The book forms an excellent cross-curricular resource, ideal for class discussion and activity. Teachers' Notes & Resources, with further extensive resource material available online. ...Show more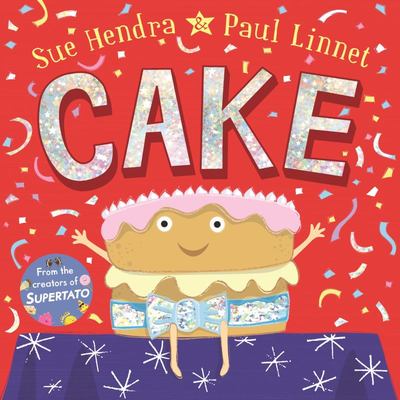 Cake
by Sue Hendra
$14.99
AUD
Category: Picture Books
In the tradition of I Want My Hat Back, this delicious story from Sue Hendra and Paul Linnet tells the story of a cake who's about to attend his very first party--but he has no idea what's coming! Cake has been invited to his very first birthday party! He buys just the right outfit--including the PERF ECT hat. But as the candles on his perfect party hat begin to burn, and the other party guests start to sing, Cake starts to think that this is one party he'd rather not be at... ...Show more